We manufacture and supply punches and dies for all types of punch and shear machines.
Gunna Engineering Pty. Ltd. is a family owned and run business specialising in the manufacture of punches, dies and blades for all makes of punch & shear machines.
We have over 25 years experience in the industry and have supplied hundreds of customers thoughout the whole of Australia.
---
Quality and Workmanship
At Gunna Engineering we only use the highest quality tool steel available. We import the shock resistant tool steel directly from Europe.
Our punches and dies are produced on state of the art CNC Machinery, allowing us to have more control over tolerances.
The Heat Treatment process is done in a Vacuum Furnace and triple tempered allowing us to achieve a more stable component and a tighter grain structure.
A lot of tooling on the market are oil quenched, being black in colour. This is old technology.






We not only produce round punches and dies, but can manufacturer any shape including oblong, square, hex and non standard sizes.
We also manufacture Shear Blades to customer requirements, and can make replacement parts for those very old mechanical Punch and Shear Machines.
If you have an idea on a specific punching process, but not sure how to go about it, give us a call and we may have a solution for you.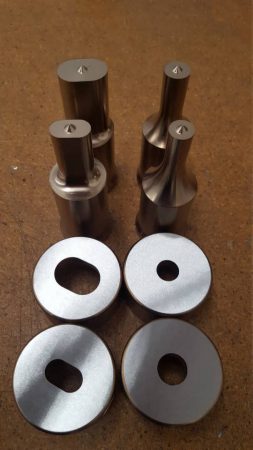 Looking for General Engineering services?
Click Here